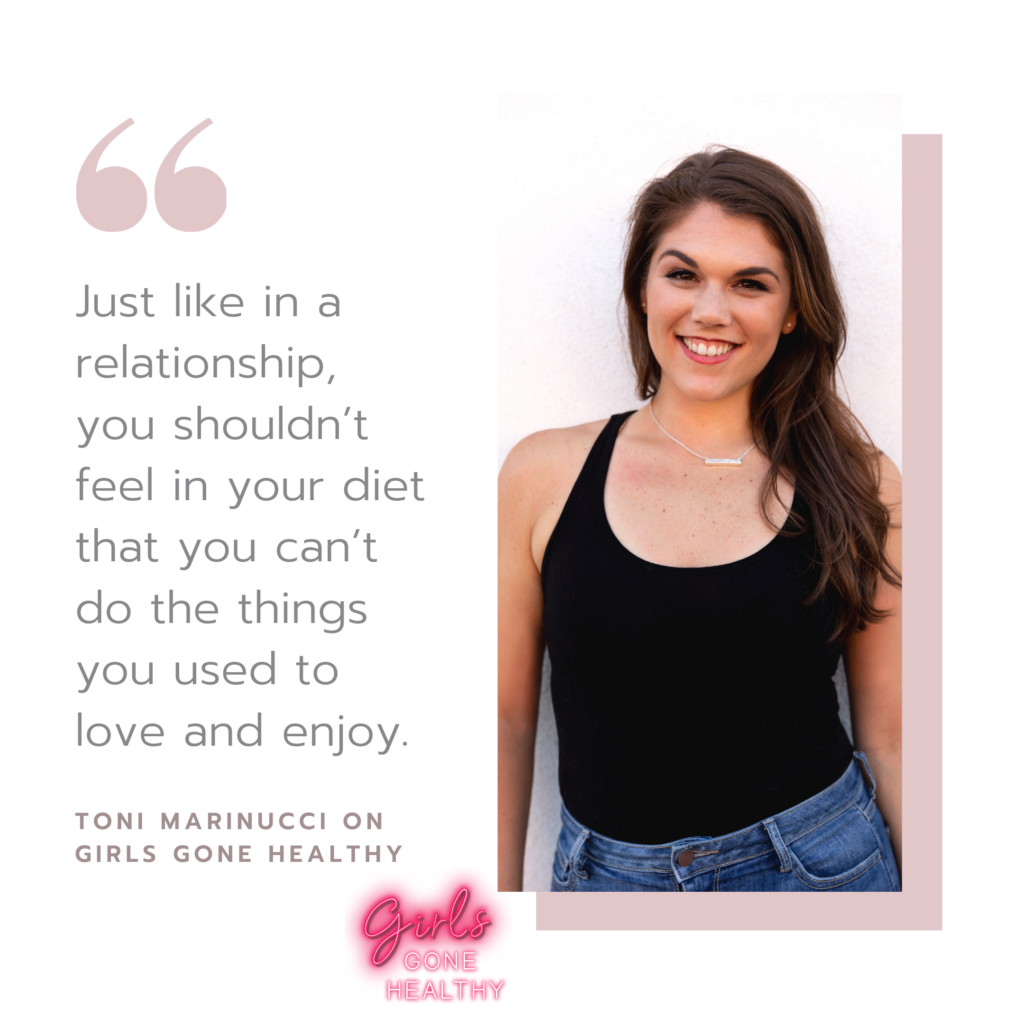 Have you ever taken a moment to think of the similarities between dating and dieting? Maybe you should look at your own dating or dieting patterns because there's a possibility that your dating history is as bad as your dieting history and vice versa. We often continue making excuses with bad diets and relationships, not necessarily for ourselves, but for the outside world. But for you to heal your bad nutritional habits, you need to stop looking at others, and instead pay attention to your body from the inside out. Find your food freedom and be liberated!
In this episode of Girls Gone Healthy, I speak with Toni, a registered dietitian, the owner of Diet Tips with Toni, and recently gave a TED talk called Once Upon A Diet. She helps heal people's relationships with food, gain self-confidence, and find balance in their eating habits.
Toni struggled for many years with bad eating habits and body image until she found value in good nutrition and gained confidence. Listen in to learn the close similarities between dating and dieting and how healing one can lead to healing the other.
Key Takeaways:
The difference that simple healthy eating and exercising can make for your confidence.
Learning how to balance taking care of yourself and being happy with where your body gets when you start living healthily.
Stop trying to please society by striving to look a certain way.
The similarities between relationships and dieting and why both should be about elevating your happiness.
How to change or stop pushing for different results by repeating the same thing over and over again.
Understanding that healthy looks different on everyone and not to compare your journey with others.
The importance of surrounding yourself with healthy people with the same goals as you or walking the same path as you.
Episode Timeline:
[2:14] Toni narrates her bad relationship with food and a negative body image growing up.
[12:50] She explains the similarities between dating and dieting for their restrictive and compromising nature.
[18:57] Why a nutritional plan should be about elevating what you love, with the same applying to relationships.
[20:49] How ending a toxic relationship helped Toni move forward even with her food habits.
[26:26] Tips on how to stop the dieting cycle whether with an eating disorder or with a disordered eating pattern.
[32:32] She advises on the importance of surrounding yourself with healthy people to succeed in your journey.
Quotes:
"You shouldn't feel in a relationship or on a diet that you can't do the things you used to love and enjoy."– Toni [17:32]
"At the core, everybody wants love and attention and to be accepted."– Toni [25:55]
"Your health is not just your physical health, it's a combination of your physical and mental health."– Toni [32:07]
"Anybody who is actively trying to work on themselves to make themselves better is going to be really successful in this world."– Toni [32:37]
Connect with Toni:
Don't forget to subscribe so you never miss an episode and please leave a 5-star review if you enjoyed the show!
WORK WITH ME: https://emilycoffman.org/beyondthehype/
Toni Marinucci is a Registered Dietitian with a Master's Degree in Nutrition and Dietetics from Westchester, New York. She is the business owner of Diet Tips With Toni Marinucci, MS, RD, LLC. who provides online nutrition coaching. She works with busy, working, women who struggle knowing how to eat to fuel their bodies optimally so they can have the energy and self confidence to live a life of freedom; freedom from negative thoughts, self-doubt, and "what-if's". She uses her social media platforms to end the restrictive diet culture by providing simple strategies to help people commit to healthier living with scientific based evidence and real world application. She recently just gave a TEDx talk and is working on her very first book where she discusses the parallels between dieting, dating, and romantic relationships, and how we treat them the same.